General / New product & technology
SEQENS Cosmetics launches AdvensCare, a new range of ingredients and intermediates for cosmetic products.
With more than 50 years of experience, SEQENS Cosmetics is a European reference for the development of custom solutions and ingredients for the most demanding industries such as cosmetics and fragrances.
With a long standing expertise in the manufacturing of key and complex cosmetic ingredients and intermediates, we provide our customers a unique continuum of expertise and support them from the early stages of research and development to the industrialization of their products.
Relying on valuable skills in organic chemistry and specific industrial equipment, SEQENS Cosmetics has built the AdvensCare range which is composed of ingredients and intermediates, carefully selected for their value and versatility in cosmetic formulations and perfumes.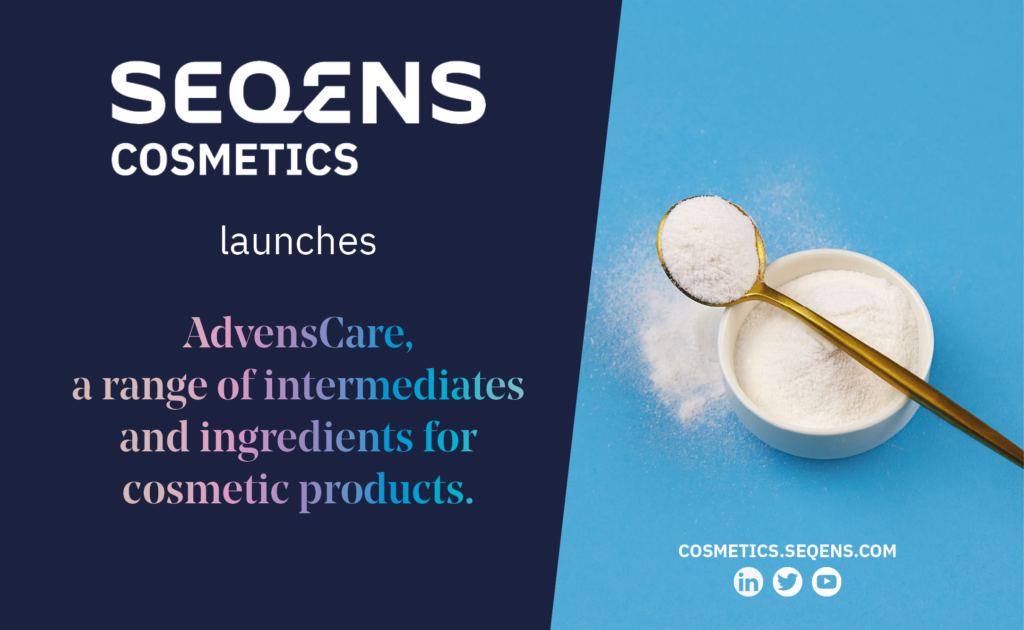 With AdvensCare, SEQENS strengthens its support to cosmetics companies in the development and formulation of actives, functionals, and fragrances. The AdvensCare range covers a wide variety of active ingredients (such as anti-aging, whitening, moisturizing, anti-microbial) and functionals (preservatives, emollients, emulsifiers) and involves perfectly mastered chemistries such as acid chlorides, fatty acids and esters.
All the AdvensCare ingredients are manufactured in France in Ecovadis Gold Certified production sites and are available at the highest levels of purity.
The advenscare range
AdvensCare BZC
AdvensCare BZC is a crystalline quaternary ammonium salt, which is available as a minimum 97% pure odorless and white to whitish fine powder. Used as a fast-acting preservative in personal care products, it is very effective at low concentrations against a wide variety of microorganisms. The recommended maximum use level for AdvensCare BZC is 0.1% in rinse-off and leave-on skin care products in Europe and China, 0.5% in in rinse-off and leave-on skin care products the US and 0.5% in rinse-off products and 0.2% in leave-on products in Japan. Soluble in water, lower alcohols, ketones and glycols, AdvensCare can be easily formulated into solid or liquid formula (soaps, shampoos, creams …).
AdvensCare UDC
AdvensCare UDC is a colorless liquid used as a key intermediate for the synthesis of a large variety of cosmetics ingredients, principally actives, with anti-microbial, antidandruff, anti-aging or moisturizing properties such as: undecylenoyl hydrolyzed collagen, alginate, hydrolyzed corn, soy or wheat protein. Available at minimum purity of 98 %, AdvensCare UDC is oil soluble and can easily be used to functionalize water soluble ingredients (such as amino-acid, peptides and proteins) in order to improve their "formulability", skin penetration and bio-availability.
AdvensCare DEA
AdvensCare DEA is a colorless liquid commonly used as masking agent in personal care products, by reducing or inhibiting the basic odor and as fragrance ingredient with fruity olfactory profile. It is also used as an emollient for a variety of skin conditioning products since it acts as a lubricant on the skin surface and gives the skin a soft and smooth appearance.
AdvensCare UDA
AdvensCare UDA, white crystalline solid, is a versatile cosmetic ingredient for skin and personal care products such as, anti-seborrheic active, cleansing, emulsifying, and masking agents. Its fatty acid ester derivative Ethyl undecanoate, is used in the flavors and fragrances industries to bring a coconut and creamy smell.
key synthesis reactions
Our expertise in the manufacturing of advanced specialty ingredients for the cosmetics and fragrance industries goes beyond the AdvensCare range. Key organic synthesis reactions for the cosmetic industry such as esterification, hydrogenation, halogenation, polymerization and alkylation are performed in routine in our plants and can be made available for the quality manufacturing of your strategic ingredients.