General / New product & technology
Seqens has historical expertise in the manufacturing of key & complex cosmetics ingredients and intermediates!
SEQENS Advanced Specialties has more than 50 years of experience in the synthesis and industrial production of complex compounds for a large variety of applications, including but not limited to cosmetics ingredients. Among those, chloride-containing compounds, such as salts or acid chlorides, are key intermediates and ingredients that have extensive applications in the Cosmetics and Fragrances markets.
As a matter of fact, chloride- based compounds are present in or used to produce a large variety of cosmetics ingredients ranging from preservatives to anti-aging actives, as well as in fragrance and flavors. The manufacturing of chloride-containing compounds and more specifically acid chlorides requires strong scientific expertise and specific equipment that are compatible with the "acidity and salinity" associated with those valuable compounds.
Seqens has long lasting expertise in the industrial production of a wide variety of chloride-containing ingredients such as benzethonium chloride (used as preservative), undecylenoyl chloride (used as an intermediate in emulsifiers, anti-aging and whitening ingredients) or 2-methyl butyryl chloride (used as a perfuming agent in fragrances and personal care products). All our ingredients are manufactured in France in Ecovadis Gold Certified production sites and are available at the highest levels of purity (minimum 97-98 %).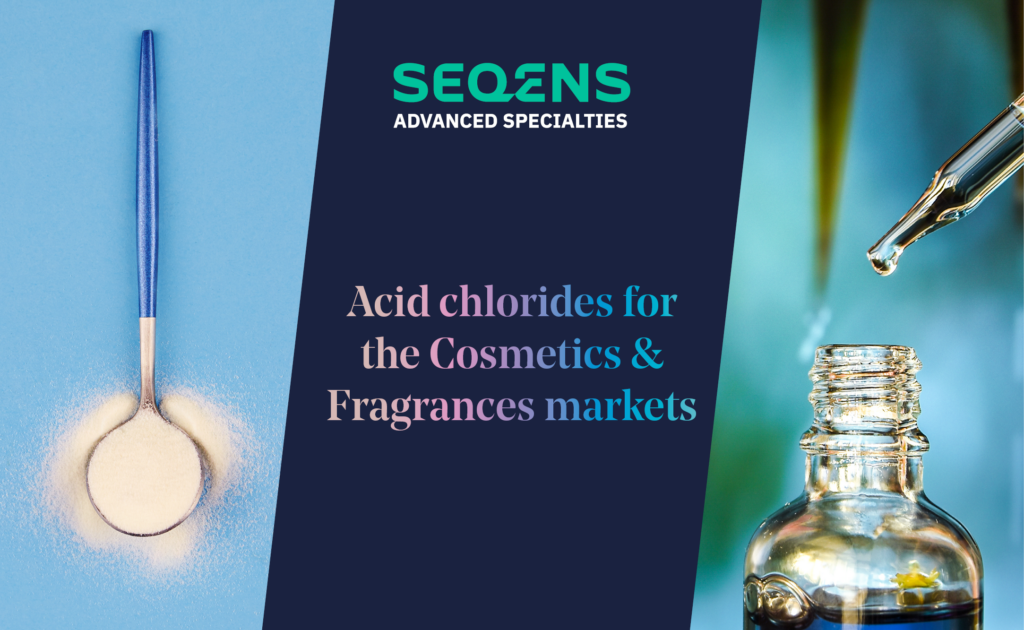 What are "chlorides" and what are they used for in Cosmetics products?
Chloride- containing ingredients can refer to a large variety of compounds going from salts to organic compounds. The "chloride" function provides interesting physico-chemical properties going from "ionic" to "binding" abilities, that make them useful tools to creating innovative and multifunctional cosmetics ingredients.
One widely known example of Chloride is Sodium Chloride, or table salt, which is a white crystalline solid that helps stabilizing emulsions and works as a texturizer. This is because the chloride group, when solubilized in water, becomes "ionized" (negatively charged). In cosmetics and personal care products, Sodium Chloride is broadly used in the formulation of oral hygiene products, shampoos, fragrance, skin, hair, nail, cleansing, suntan, makeup and bath products.
Similarly, thanks to their chloride function, more complex salts also have "ionic" properties which can be highly beneficial because those are often associated with "antimicrobial" efficacy. Thus, quaternary ammonium salts, for instance benzethonium chloride, can help ensuring the preservation of cosmetics formulations, or to guarantee the efficacy of hygiene products, such as benzalkonium chloride which is recently brought back to the scene as it offers a potential for alcohol free hand sanitizers.
Benzethonium chloride
Benzethonium chloride is a crystalline quaternary ammonium salt, which is available as a minimum 97% pure odorless and white to whitish fine powder. Primarily used as a topical anti-microbial agent in antiseptic products (in the US) and a fast-acting preservative in personal care products, it is very effective at low concentrations against a wide variety of microorganisms. The recommended maximum use level for benzethonium chloride in skin care is 0.1% in rinse-off and leave-on products in Europe (according to 1223/2009/CE regulation) and China (Hygienic Standard for Cosmetics, 2007), 0.5% in in rinse-off and leave-on products the US (according to CIR opinion / JACT 4(5):65-106, 1985) / revision (IJT 25(Suppl. 2) :1-89,2006); and 0.5% in rinse-off products and 0.2% in leave-on products in Japan (Standard for cosmetics, 2001). Soluble in water, lower alcohols, ketones and glycols, benzethonium chloride can be easily formulated into solid or liquid formula (soaps, shampoos, skin care cream …).
In addition, chloride- containing ingredients can also relate to another family of compounds of interest to the personal care market, namely acid chlorides. Acid chlorides (also known as acyl chlorides) are organic compounds that have a chloride group attached at the end of their carbon-based backbone. This gives them a certain versatility and the ability to get attached to other valuable compounds (such as amines, alcohols, or acids…), thus forming original cosmetics ingredients.
Notably "fatty acid chlorides", such as undecylenoyl chloride, or palmitoyl chloride, are characterized by a hippophilic tail that makes them oil – soluble; their "chloride function" enables them to bind to water soluble moieties, (like amino-acids, peptides, proteins, sugars or polysaccharides …), therefore producing multifunctional ingredients with surfactant properties, such as emulsifiers, but also moisturizing, anti-aging, whitening actives ingredients.
Undecylenoyl chloride
Undecylenoyl chloride is a colorless liquid used as a key starting material for the synthesis of a large variety of cosmetics ingredients including but not limited to antidandruff, antistatic, emulsifiers, actives, such as: undecylenoyl hydrolyzed collagen, alginate, hydrolyzed corn, soy or wheat protein… Available at minimum purity of 98 %, undecylenoyl chloride is oil soluble and can easily be used to functionalize water soluble ingredients (such as amino-acid, peptides and proteins) in order to improve their "formulability", skin penetration and bio-availability. Other fatty acid chlorides, such as palmitoyl chloride, stearyl chloride, that are commonly used in cosmetics products, have similar properties and can be manufactured using comparable processes.
Acid chlorides also happen to be easily processed into esters which are well known to bring a large palette of olfactory notes (going from fruity, floral to musky) to the fragrance and flavors industries.
2-methylbutyryl chloride
2-methylbutyryl chloride is a light-yellow clear liquid (with a minimum purity of 98 %) used for the synthesis of esters (butyrate, butanoate) with olfactory profile going from passion fruit to wood-like and ketones that can bring nutty notes. These fragrance and flavoring ingredients can be employed alone or incorporated as fragrance or flavor ingredients to modify or enhance already existing fragrance compositions.
Our expertise in the custom manufacturing of advanced specialty ingredients for the cosmetics and fragrance industries goes beyond acid chlorides.